Rolling Renegade Demo
A downloadable game for Windows and macOS
Rolling Renegade is an advanced 2d platformer with super symmetrical controls. You can; Roll, Spin, Dash, Jump, Swim, Skim, Bounce. In any direction with synergistic controls that work with physics to make emergent movement.
All the movement of the player works together complimentary to help you move through the world with skill and speed. Find out how it would feel to be the ultimate 2d life form.
Movement has been designed for and works best with a controller
Movements:
Roll accross any platform with 360 degrees of controls
Push into platforms to roll around curves and defy gravity
Fall with style with air control
Spin clockwise and counter clockwise increasing acceleration on platforms.
Swim in water and Skim across the top with speed.
Jump and Dash in 360 degrees
Rotate with the other anlog
Zoom in and out.
Toggle each analog by pressing down to look around and control the camera.
Settings:
Control music playlist genre
Time scale - play fast or slow motion.
Harcode mode
PCG seed and level - control difficulty and increase replayability.
Camera Filter - Play neon or hue shifting and more.
Player voice - Male, Female or both or either or none!
Control effect settings.
The game is still in an experimental phase and I would love feedback please check it out and let me know what you think. Please give me feedback on.
If its to easy/hard.
Too slow/fast
Too floaty?
Too powerful?
What the controls feel like.
How you think the controls could be improved or changed.
If you'd like anything else to be controllable or customisable
Give me feedback with a comment here or anywhere else like social media, or link me footage of you playing if you can as it would be incredible to see people playing.
And answer Feedback form- https://forms.gle/gyXwkTDsu1ZUG6sJ7 if your able.
I am trying to evolve 2d platforming gameplay and make the ideal controls for speed running and competitive, skillful play and ultimatly develop a 2d e-sport with the controls. I think I am on the right track but it is probably imbalanced as I haven't had much playtesting. So please help me with feedback so I can interate and improve to make it perfect.
The Demo
The demo consists of 20 varied partially procedural levels that explores the different aspects of movement. The levels are designed by me but with some aspects procedurally generated.

The goal with level design is to make interesting and distinct levels that then use procedural generation to vary aspects of it such as obsticle placement and type to make levels that are interesting and unique as well as replayable.
You can control the pcg seed and level in the settings. So you can choose the seed so the level is always the same, turn custom seed off and play the base version of the level or randomise seed so it is different each time. Controlling the seed level increases the difficulty by creating more obsticles that are more challanging.
The goal of the game is to be a pure gameplay experience that is fun and easy to play in short or long sessions and is fun and intuitive for beginners and casual players yet has a huge difficulty curve for hardcore players to climb towards mastery.
Thank you for your time and help.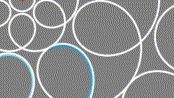 Looping around with complete control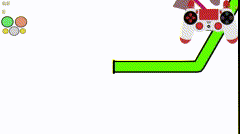 Dashing quickly using controls synergistically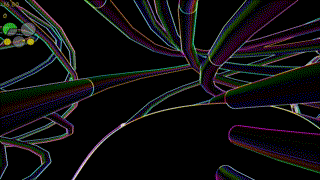 Avoiding 3d obstacles with neon camera filter
Download
Click download now to get access to the following files:
RollingRenegadeDemoWin.zip
154 MB
RollingRenegadeDemoMac.zip
154 MB